Seventy West
DEAD ENGINE

There ain't nothing wrong with that car
and it's almost five, dinner's waiting
so lady, do you have to go far?
cause I don't know how to get it to start

Well, he looks under the hood of my car
mumbling, scratching his grey haired head
So mister, can you take it apart? – I ask
cause, you see, I do have to go far


Dead engine
Will you please come alive?
This man wants to go,
wants to get to his wife
Now this man's on his back underneath my ol' car
and I tell 'm; Gotta make it to Kansas today – He says;
Wow, lady! Do you know where you are?
You better take the last bus if you're smart

Now I'm getting my bags from the trunk of my car
as I hear that engine roar and the old man say
I got it, this thing! This car's got a heart
If you don't buckle up, it won't start

You gotta be safe, if you want it to drive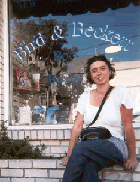 At Bird & Becketts bookstore in 'Frisco'
In loving memory of our dear friend Mieke, who wished for me to start and finish and write about this trip, even though she was seriously ill.

SAY HELLO TO FRISCO

When I told you where I called from
You said 'It's my favorite city
Will you go down to Castro,
see the rainbow flags for me?'

When I told you 'bout the streets
- they scared the hell out of me -
I remember you were laughing
and said, 'Yes, my dear, they are steep'


Say hello to Frisco
That Pacific love of mine
Say hello to Frisco
where once my love used to shine
When I asked you, How are you
you said fine, and then 'Not really,
and there is nothing you can do now
but to love that place for me'

and say hello to Frisco
That Pacific love of mine
Say hello to Frisco
where once my love used to shine

When I'll return with the pictures
the ones of Golden Gate and me,
(I wonder) will you still be able
to see your favorite city?

And when I bring back the scent
of the Eucalyptus tree,
will you still be there
to share the memory?


"Goodbye Old Horse" in Brooklyn
BED ON THE BACKSEAT

I took another nameless exit
in another timeless night
Rolled my wheels, my tired eyes
off some highway in Ohio
and my cash was running low


Been sleeping in my car
Made my bed on the backseat
Got my legs folded up
I could smell my sweaty feet
All I wanted, was to lay down
Lay low, sneak in tonight
Park this car way outta sight
on a campground in Ohio
Pull in late, no-one to know


Been sleeping in my car
Made my bed on the backseat
Got my legs folded up
I could smell my sweaty feet
Next morning, when I woke up
Stiff and cold, I couldn't pay
I'd start her up, be on my way
along some highway in Ohio
Back on track, back on the road


About the diaries 'A Dyke In Many States'

During my trip I kept diaries. It started out as a just fun way of telling my friends where I was and what I was doing there. By the time I returned it had become a story that was more than just a travellers' journal.

And to all my American friends: What's going down in the land of tulips??!

03/21/06...It's been some time now, eh? Never got to finish that book I was planning to write, I know. But all the diaries are still there, waiting to be once again explored. Same goes for the songs and lyrics. They seem to be from another era by now. But I do keep on writing.

Upon my return in the Netherlands, I found a country in turmoil, turned completely upside down. During my visit to the US a politician running for elections had been murdered. Since then, everything is changing rapidly. This once so free country is no more. Action has to be taken. NOW!

The current Balkenende administration is the worst ever. That is, as far as I can remember. If you have visited other pages of this website already, you may have noticed mostly political texts have been added. They are all to protest this governments policy, and to be specific, the policy of our secretary of "alien affairs and intigration" (or better said: "deportation and assimilation") Verdonk.

Human rights are continuously violated. Refugees deported to unsafe countries. Personally, I feel all borders should be opened. Away with nations and nationalism! Burn the flags! (I actually did and received numerous death threats because of that.) If you want to find texts about this protest in English, go to this page. Note: there will be more translations in the future.

And furthermore, please folks, DO try and get yourselves another president next elections and get rid of this terrorist! In the meantime, we'll try and get rid of ours...